Chocolate and Macadamia Granola
Author: Sacha Elms Date Posted:14 September 2015
---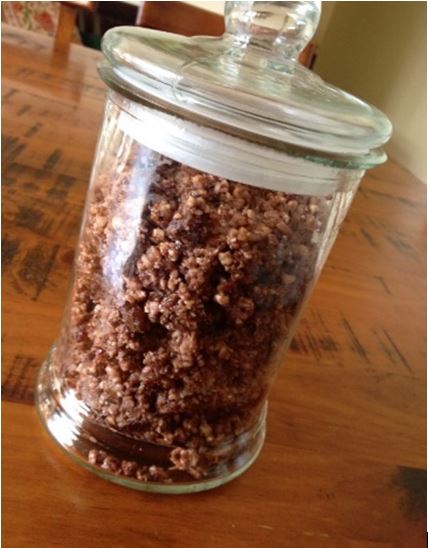 Typical dessert vs Paleo dessert
Every-one loves dessert. Unfortunately, trying to adhere to a Paleo diet, or a generally healthy lifestyle, cuts out a lot of typical mouth - watering desserts that people love. Things like fudges, cakes and mousse, just to name a few.
It's not as depressing as you once thought
Thankfully, when you do a bit of digging and experimenting, it turns out you can make a huge variety of treats using delicious and REAL foods. These alternatives taste even better than the original when you get them right, and you finish them without that sick feeling in your stomach afterwards! Who doesn't love a guilt-free treat that tastes great as well?
Fortunately, we at Again Faster have devised a few incredibly tasty treats for everyone to enjoy…So that being said, here is a recipe for Chocolate and Macadamia Granola.
The Recipe – Chocolate and Macadamia Ganola
Ingredients:
2 cups dried, pitted dates
375 grams macadamias
3/4 – 1 cup cashews
2 spoons chia seeds
2 generous spoons coconut oil (to be melted)
2 heaped spoons raw cocao powder
Method:
Blend the dates until well chopped. Add in macadamias and melted coconut oil. Blend until mixed together well. Add cashews, chia seeds and cocao powder. Blend until desired consistency is achieved *. It is best served with some chilled coconut milk, or some coconut yoghurt.
*If the mixture is too dry, add in a touch of water or some more melted coconut oil and blend.
Enjoy as a dessert, an energising snack before or after training, or just as a treat throughout the day!
---
Leave a comment