This is an aweome lunch/dinner/snack. It is super easy to make the lamb in bulk batches so you have delicious pulled lamb to add to other salads or veggies or just to have a chomp on its own. You can substitute the salad ingredients for whatever is local and seasonal at the time.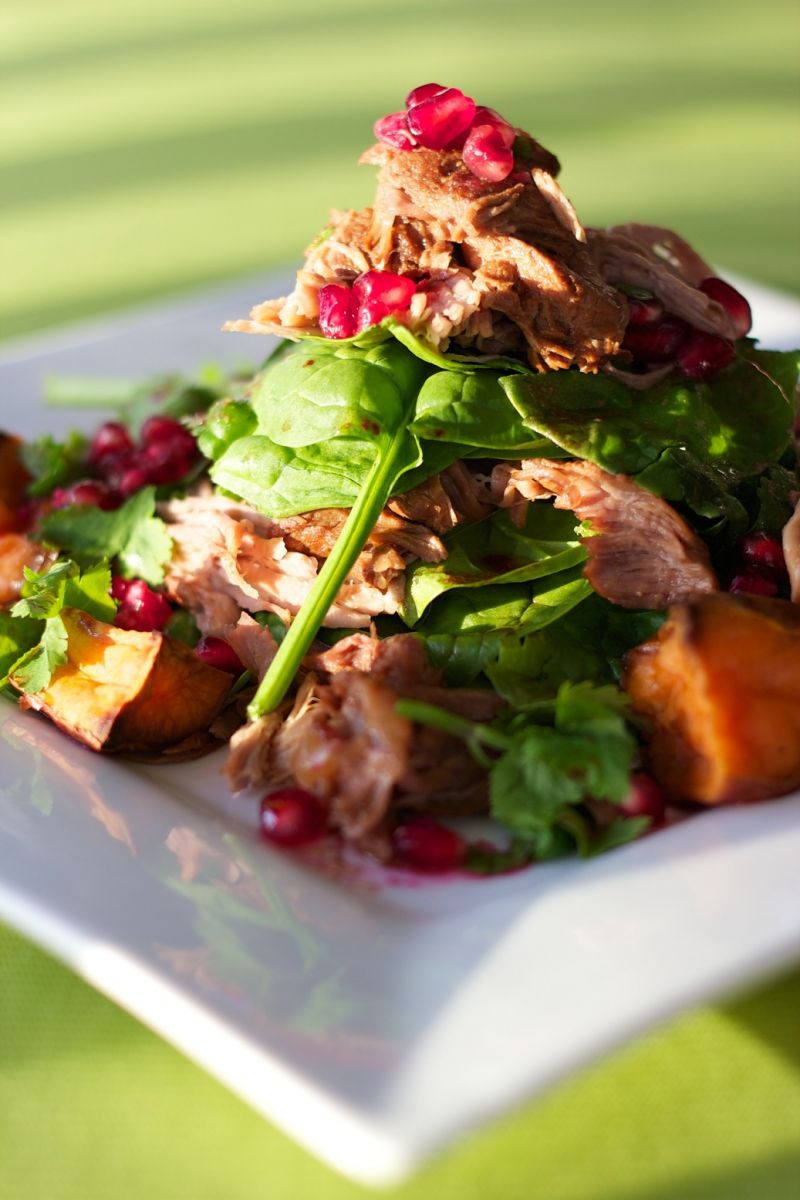 LAMB-
1 heaped tsp garam marsala
1 heaped tsp ground cumin
1/2 tsp ground coriander
1 tsp cinnamon
1 tbs coconut oil
1 red onion, diced
4 cloves garlic, crushed
400g tin chopped tomatoes
4 cups Stock, I used my chicken bone broth, beef or veggie would be fine too.
700-800g free-range lamb – I used a butterflied leg of lamb, you could use shoulder or a regular leg
SALAD-
1 pomegranate, get the seeds out however you can with the least amount of mess
Bag baby spinach
Big handful chopped coriander
Handful of chopped fresh mint
Whatever else you like- I had some roasted pumpkin in the fridge.
Juice lime
2 tbs cold pressed extra virgin olive oil
1/2 tsp ground cumin
Any pomegranate juice you can salvage
For the lamb- you will need a slow cooker or crockpot for the oven. To a dry frypan on med heat add spices and cook until fragrant. Add coconut oil, onion & garlic and sauté until onion is translucent. Add this all to your slow cooker. Return same pan to high heat and seal the lamb quickly on all sides then this can go in the slow cooker too. Add your stock to the pan back on the heat for a few minutes scraping the bottom and sides of the pan to get all combined in the stock. Add this to the slow cooker with the tin tomatoes. The lamb should be completely covered by liquid, if it's not, add more stock. Pop the lid on and let the slow cooker work it's magic for at least 6-8hrs. Take the lamb out & pull apart with some forks. You can eat the remaining stock mix as soup like we did the next day.
For the salad- Add the lime juice, cumin, any pomegranate juice you salvage and the olive oil to a cup and mix well to combine. Dressing done. Add the remaining ingredients to a big bowl, drizzle with dressing and toss well. Layer on plates with lamb. Enjoy!
ABOUT THE AUTHOR
Aside from being the author of the PaleOMG blog, Juli Bauer is also a CrossFit coach. She has also published several cookbooks like "OMG. That's Paleo?" and "The Paleo Kitchen: Finding Primal Joy in Modern Cooking". For Juli, paleo cooking isn't just a trend. "All I really want out of this blog is to make you laugh and inspire you to eat something delicious. If you don't cook, then stop looking at food blogs while sitting at your desk at work. Go to the grocery store, buy fresh food and cook it. " Juli's easy-to-read recipes make the paleo diet digestible (pun absolutely intended), approachable, and non-intimidating.