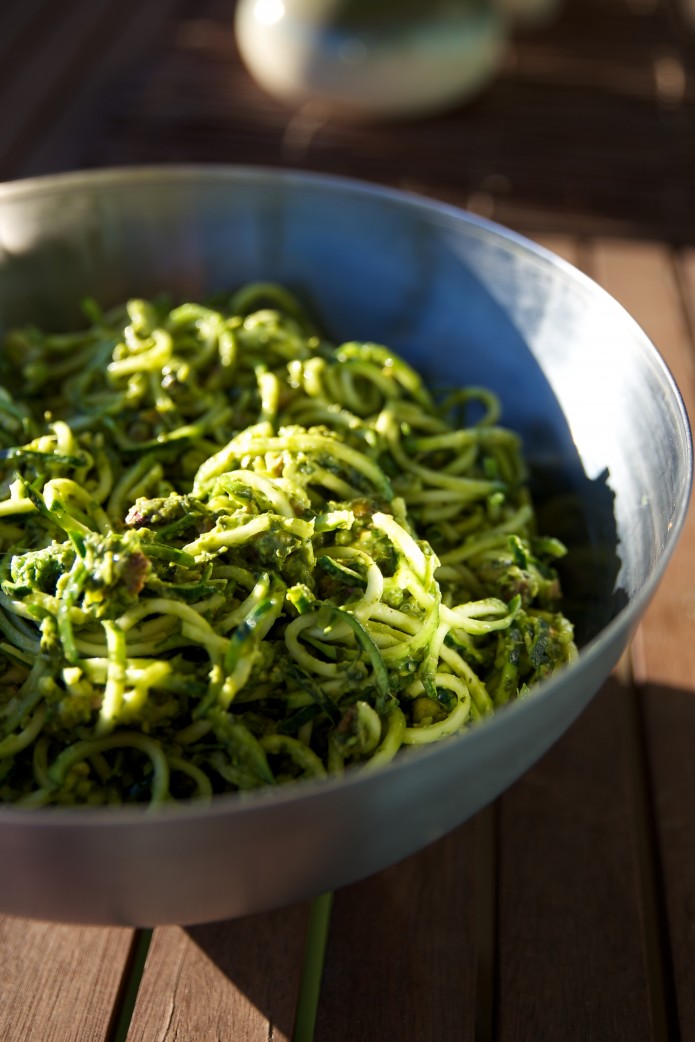 SPIROOLI has changed my life, it is SOOOOO much easier than the veggie twister, quicker & just way betterer. I don't know if that's a word but it should be.
Zucchini is low calorie and a great source of fibre. It is rich in vitamin A, flavonoid and poly-phenolic antioxidants such as carotenes, lutein and zeaxanthin. These compounds help scavenge harmful oxygen-derived free radicals and reactive oxygen species from the body that play a role in aging and various disease process.
6 zucchini's, noodled (I used my SPIROOLI)
Big bunch basil
Big bunch parsley
1 cup pistachios, lightly toasted
Juice of 2 lemons
1 tbs apple cider vinegar
1/4 cup olive oil
Pinch salt & pepper
1 lge avocado
Noodle your zucchini & set aside in a big bowl. In your food processor blend the lemon juice, oil, apple cider vinegar & herbs until very well chopped. Add the avocado, salt & pepper & blend until smooth. Add the nuts and pulse a few times to combine. Chuck the pesto on top of the noodles & mix well. I recommend getting in there with your hands and giving it a good mix to get the pesto to properly coat the noodles. Don't be shy. Hands work way better than any other implement I could find in my kitchen, and I have a cr@pload of implements in my kitchen so trust me on the hands. Now, you can chuck this in a big frypan & gently warm it through if you fancy, we ate ours raw & cold like a salad but I did warm it up the next day when I ate leftovers. Both ways are delicious. Whatever floats your boat.
ABOUT THE AUTHOR
So who am I? My name is Shan Cooper. I have a food blog called MyFoodReligion. It is devoted to Pure Unadulterated Food. Food that is good for the body and the soul. Food that makes you feel good from the inside out. It is clean eating that is full of flavour! In terms of my qualifications in food, I have none but I love to cook it and eat it! I have done a lot of research into nutrition and various 'food religions' and love to learn about food, how our body's process it and respond to it. Ab's are made in the kitchen and you cannot out-train poor nutrition.