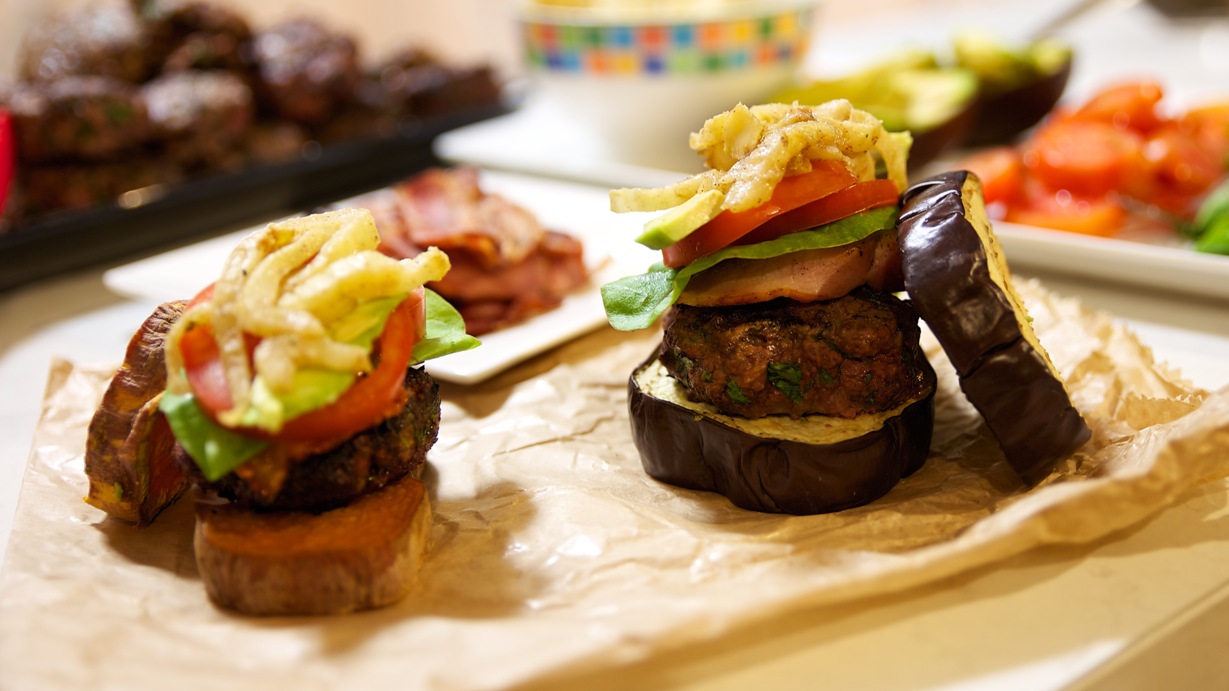 Mmmmm burgers. This will be our wild Saturday night in. Beer & burgers…. Actually there will be no beer but we will likely drink kombucha out of wine glasses so we really cut loose. I tend to do burgers the same way I do pizza & sushi… With waaayyyyyyy too much filling so it all ends up all over me, plate, floor table…. But that's cool, that's why we have dogs, it's a mobile vacuum cleaner.
You can add whatever burger fillings you like, you can use eggplant as your bun if you are after a lower carb option or totally cut loose & use sweet potato. Either way is delicious.
Fennel-
1 lge bulb fennel, thinly sliced (you can use red onion if you prefer)
1 tbs ghee, butter or coconut oil
1 tbs honey
1 tsp cinnamon
Juice of 1/2 lemon
Pinch salt
Meat Patties-
1 kg ground grassfed beef
1 cup chopped parsley
1 tsp dried oregano (or a good dose of fresh)
Pinch salt & pepper
2 eggs
Buns-
2 lge eggplants or sweet potato sliced in 1.5cm rounds
You can use lettuce as your bun instead if you like
For your buns- line a baking tray with baking paper & bake the eggplant/sweet potato on 170C until cooked through. Remove & allow to cool.
For the patties- add everything to a big bowl, mix well with your hands, shape into patties & cook on the BBQ or in a frypan.
For the fennel- Heat the ghee in a frypan until melted, add fennel (or onion) & sauté until soft, add remaining ingredients & mix through well then remove from heat.
Layer up your burgers with whatever else you like, we did bacon, spinach, tomato & avocado. They were so big we couldn't fit them in our mouth. Good times.
ABOUT THE AUTHOR
So who am I? My name is Shan Cooper. I have a food blog called MyFoodReligion. It is devoted to Pure Unadulterated Food. Food that is good for the body and the soul. Food that makes you feel good from the inside out. It is clean eating that is full of flavour! In terms of my qualifications in food, I have none but I love to cook it and eat it! I have done a lot of research into nutrition and various 'food religions' and love to learn about food, how our body's process it and respond to it. Ab's are made in the kitchen and you cannot out-train poor nutrition.