No need for crappy, nutrient poor, sugar-laden breakfast cereal here! This sucker is loaded with veggies & nutrition & tastes just like Carrot Cake.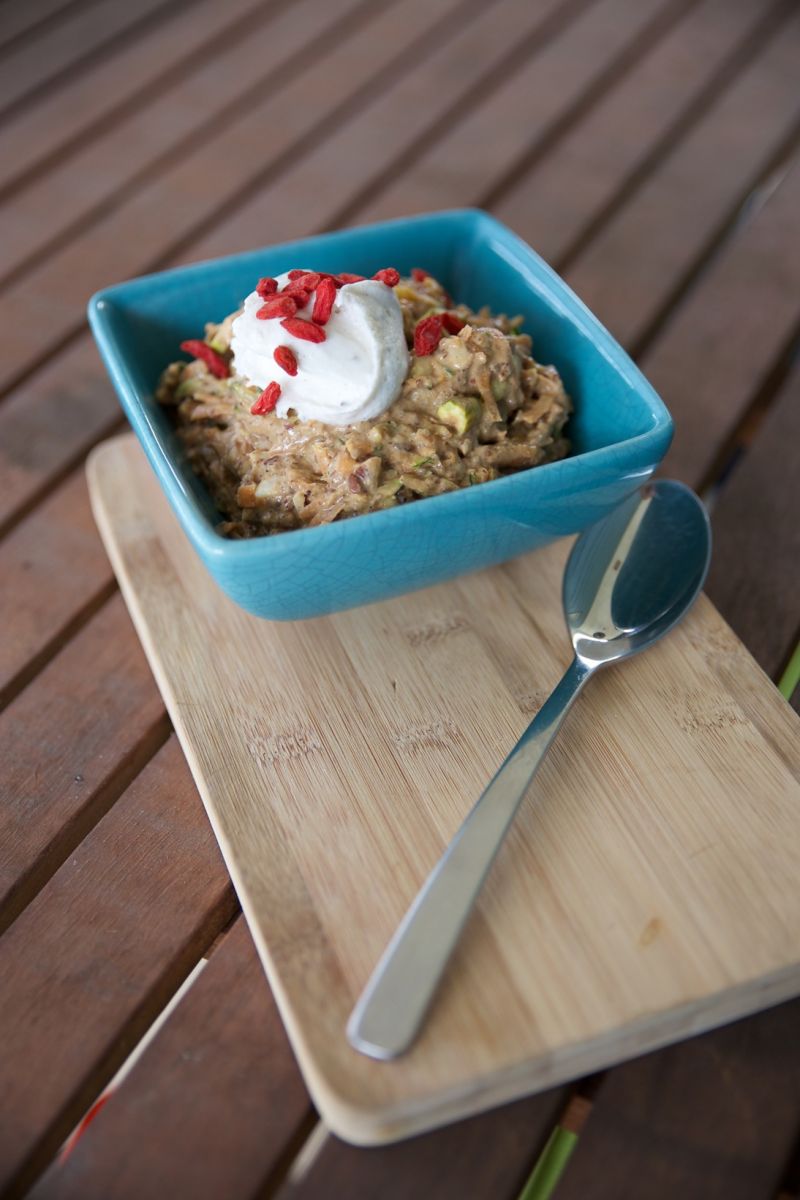 Zucchini is low calorie and a great source of fibre. It is rich in vitamin A, flavonoid and poly-phenolic antioxidants such as carotenes, lutein and zeaxanthin. These compounds help scavenge harmful oxygen-derived free radicals and reactive oxygen species from the body that play a role in aging and various disease process. Carrots are full of beta-carotene which helps to reduce the risk of cancer, low in carbohydrates and full of vitamins C, K and B6. Health-promoting minerals found in carrots include potassium, calcium and manganese.
1/2 cup grated zucchini
1/2 cup grated carrot
1 heaped tbs protein powder (vanilla or flavorless)
1/2 tsp cinnamon
Pinch cloves
Pinch nutmeg
1/2 tsp ground ginger
1 cup coconut milk (or milk of your choice)
1/2 cup chopped nuts & seeds (whatever you like)
1 heaped tbs ground flax or chia
Dash stevia (1 tbs honey or maple syrup as an alternative)
Coconut to serve (optional)
Add the zucchini, carrot, spices & milk to a small saucepan & bring to the boil, reduce to simmer & add all remaining ingredients. Cook for a few more minutes until all heated through and it has started to thicken. Pour into a bowl & eat cold or warm. Top with some coconut yoghurt, strawberries, poached pears or grilled figs would be delicious too!
So who am I? My name is Shan Cooper. I have a food blog called MyFoodReligion. It is devoted to Pure Unadulterated Food. Food that is good for the body and the soul. Food that makes you feel good from the inside out. It is clean eating that is full of flavour! In terms of my qualifications in food, I have none but I love to cook it and eat it! I have done a lot of research into nutrition and various 'food religions' and love to learn about food, how our body's process it and respond to it. Ab's are made in the kitchen and you cannot out-train poor nutrition.