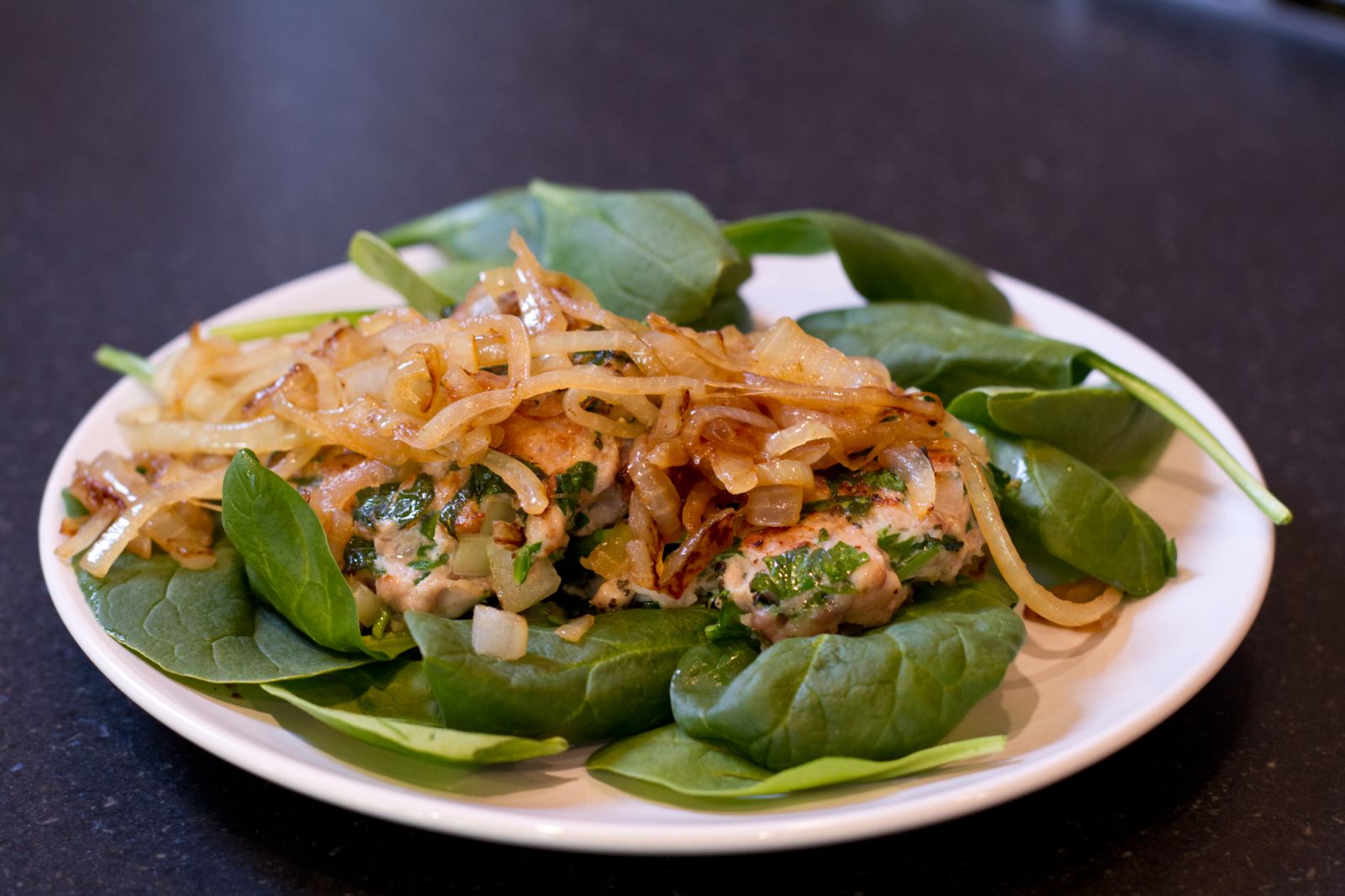 INGREDIENTS:
For Burgers
1 pound ground chicken
1/4 cup fresh parsley, roughly chopped
1.5 cups fresh spinach, roughly chopped
1/2 yellow onion, diced
1 garlic clove, minced
2 teaspoons dried thyme
1 teaspoon dried basil
1 teaspoon garlic powder
sliced avocado (to garnish)
salt and pepper, to taste
For Carmelized Onions
1 large yellow onion, thinly sliced
2 tablespoons fat of choice (I used coconut oil)
1 tablespoon water
pinch of salt
INSTRUCTIONS:
1) Place a medium saucepan over medium heat along with the fat of choice and sliced onions for your caramelized onions.
2) Let onions begin to cook down, moving them around at times to make sure they don't stick to the bottom. When onions begin to brown slightly, pour in a tablespoon of water to help steam and cook the onions perfect.
3) While onions cook down, in a large bowl, add all the ingredients for your burgers and use your hands to mix well.
4) Form five balls with your hands.
5) Place a non-stick large skillet over medium heat. Once skillet is hot, place a couple of your balls of meat onto the skillet then press down with a spatula to flatten out.
6) Cook on both sides for 6-8 minutes. I flipped mine a couple times to make sure they didn't burn, just brown up nicely.
7) Once burgers are done cooking, top with onions and avocado.
8) Eat that deliciousness!
Aside from being the author of the PaleOMG blog, Juli Bauer is also a CrossFit coach. She has also published several cookbooks like "OMG. That's Paleo?" and "The Paleo Kitchen: Finding Primal Joy in Modern Cooking". For Juli, paleo cooking isn't just a trend. "All I really want out of this blog is to make you laugh and inspire you to eat something delicious. If you don't cook, then stop looking at food blogs while sitting at your desk at work. Go to the grocery store, buy fresh food and cook it. " Juli's easy-to-read recipes make the paleo diet digestible (pun absolutely intended), approachable, and non-intimidating.