NO BAKE BERRY BARS
Author: Juli Bauer Date Posted:20 November 2014
---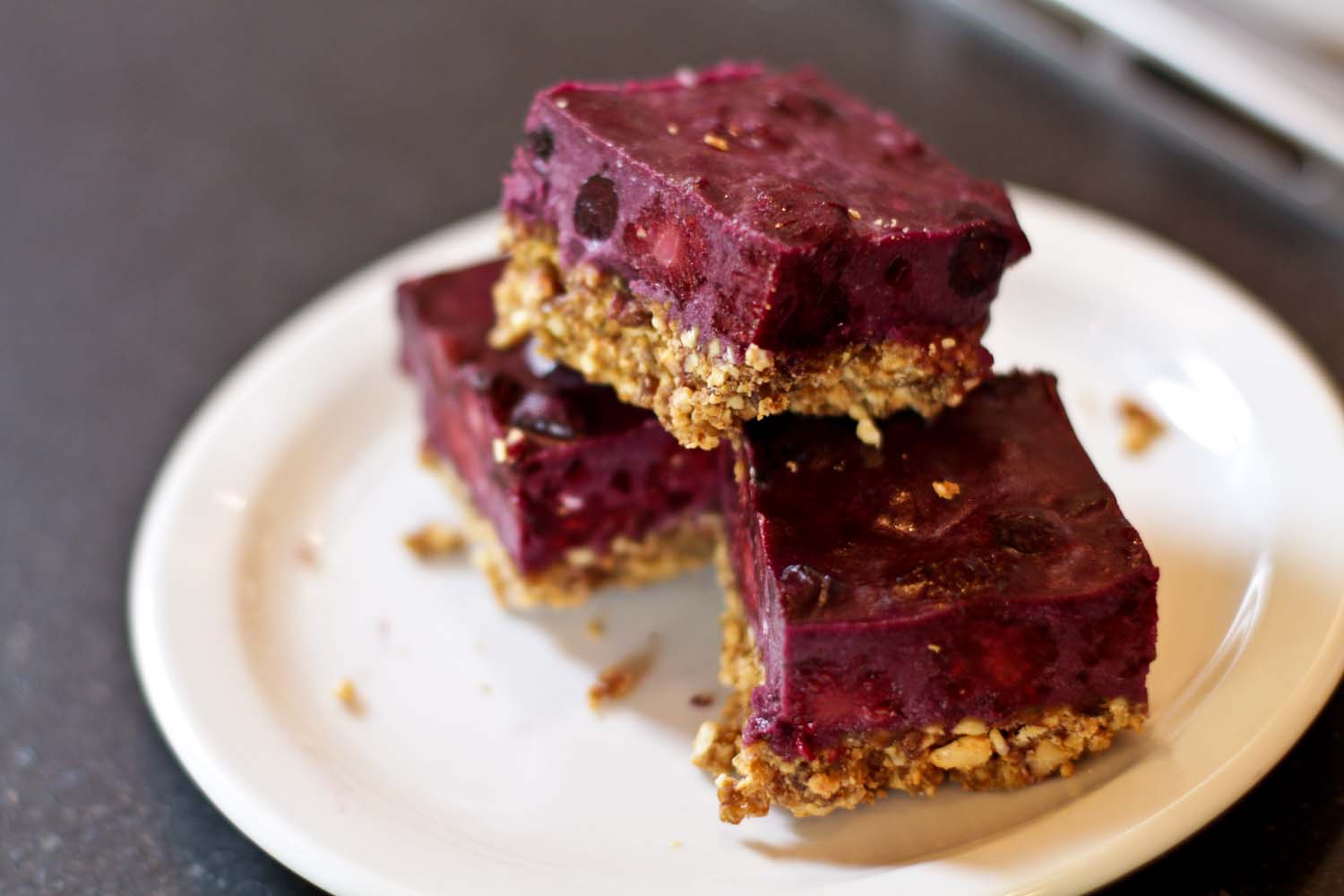 INGREDIENTS:
Crust
12 medjool dates, pits removed
1 cup cashews
2 tablespoons almond butter
1 teaspoon cinnamon
pinch of salt
Toppings
6-8 oz blackberries
6-8 oz blueberries
1/4 cup maple syrup
1/4 cup coconut butter
sprinkle of cinnamon
pinch of salt
INSTRUCTIONS:
1. First make your crust. Add all ingredients for the crust to a food processor.
2. Put crust ingredients in an bread pan, press down until evenly distributed.
3. Now heat up a small saucepan under medium heat. Add your blackberries and blueberries, along with your maple syrup.
4.Once blueberries and blackberries begin to break down and slightly explode so there is more juice in the pan, add your syrup. Be sure to continuously stir so the mixture doesn't stick to the bottom or burn.
5. Once you have almost a runny jam, add your melted/softened coconut cream concentrate along with cinnamon and salt.
6. When all ingredients are incorporated, pour mixture on top of crust and press flat. Put in the fridge to harden for 30-45 minutes.
7.Cut into squares and serve!!
ABOUT THE AUTHOR
Aside from being the author of the PaleOMG blog, Juli Bauer is also a CrossFit coach. She has also published several cookbooks like "OMG. That's Paleo?" and "The Paleo Kitchen: Finding Primal Joy in Modern Cooking". For Juli, paleo cooking isn't just a trend. "All I really want out of this blog is to make you laugh and inspire you to eat something delicious. If you don't cook, then stop looking at food blogs while sitting at your desk at work. Go to the grocery store, buy fresh food and cook it. " Juli's easy-to-read recipes make the paleo diet digestible (pun absolutely intended), approachable, and non-intimidating.
---
Leave a comment