I love soups! They are a great way to bang a whole heap of nutrition in one place that you don'teven have to chew! How good. That is efficiency right there folks.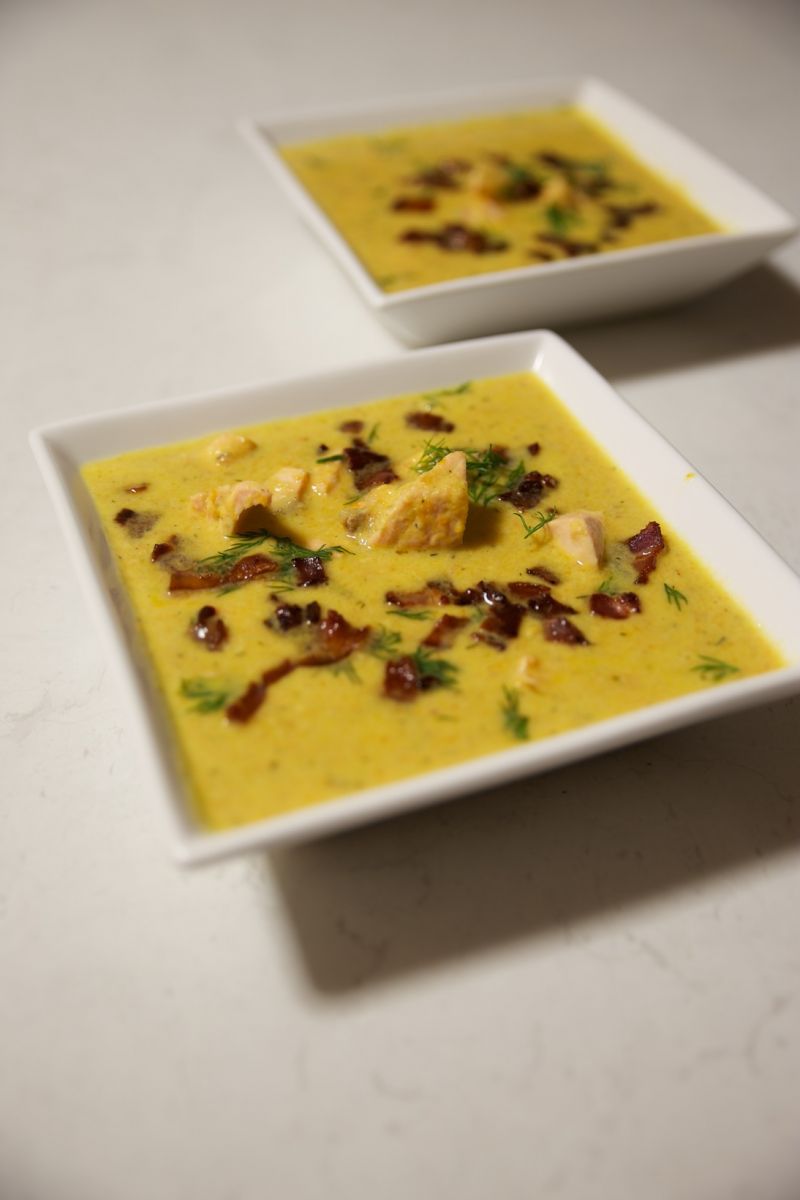 I have eaten chowder only once in San Francisco and never cooked it before so I would suggest I am hardly the expert on chowder. In saying that, I am the expert of my tastebuds & this tastes freaking tops so if it's not "chowdery" enough for you then I say "NO SOUP FOR YOU"! Get it? Seinfeld? Oh whatever. Just eat the chowder. It's good for you you. And it's delicious. Go, get chowdering. What a cool word "chowdering", use it in a sentence sometime this week please.
300g bacon, diced (preferably nitrate free if you can find it)
500g salmon fillets, chopped in half (skin and bones removed)
1 leek, sliced
2 cups carrots, diced into small pieces
1 litre chicken stock/bone broth or vegetable stock
500ml full fat coconut milk
1 tbs fresh dill
Salt & black pepper to taste
In a large soup pot, cook the bacon until it's nice & crispy. Take out 1/2 the bacon & set aside. Add the leeks to the remaining bacon and continue to sauté until the leeks are tender. Add the carrots and cook until they start to soften. Add the stock, dill, salt & pepper and bring to a simmer. Remove from heat. Use a stick blender to blend this until smooth. Return to the heat, add the coconut milk, bring to the boil again then add the salmon fillets to the soup, make sure they are covered with the soup, and let simmer until they are easy to break apart. Gently flake the salmon pieces apart and stir gently. Serve in big bowls, sprinkle with a bit more fresh dill & the remaining bacon.
ABOUT THE AUTHOR
So who am I? My name is Shan Cooper. I have a food blog called MyFoodReligion. It is devoted to Pure Unadulterated Food. Food that is good for the body and the soul. Food that makes you feel good from the inside out. It is clean eating that is full of flavour! In terms of my qualifications in food, I have none but I love to cook it and eat it! I have done a lot of research into nutrition and various 'food religions' and love to learn about food, how our body's process it and respond to it. Ab's are made in the kitchen and you cannot out-train poor nutrition.