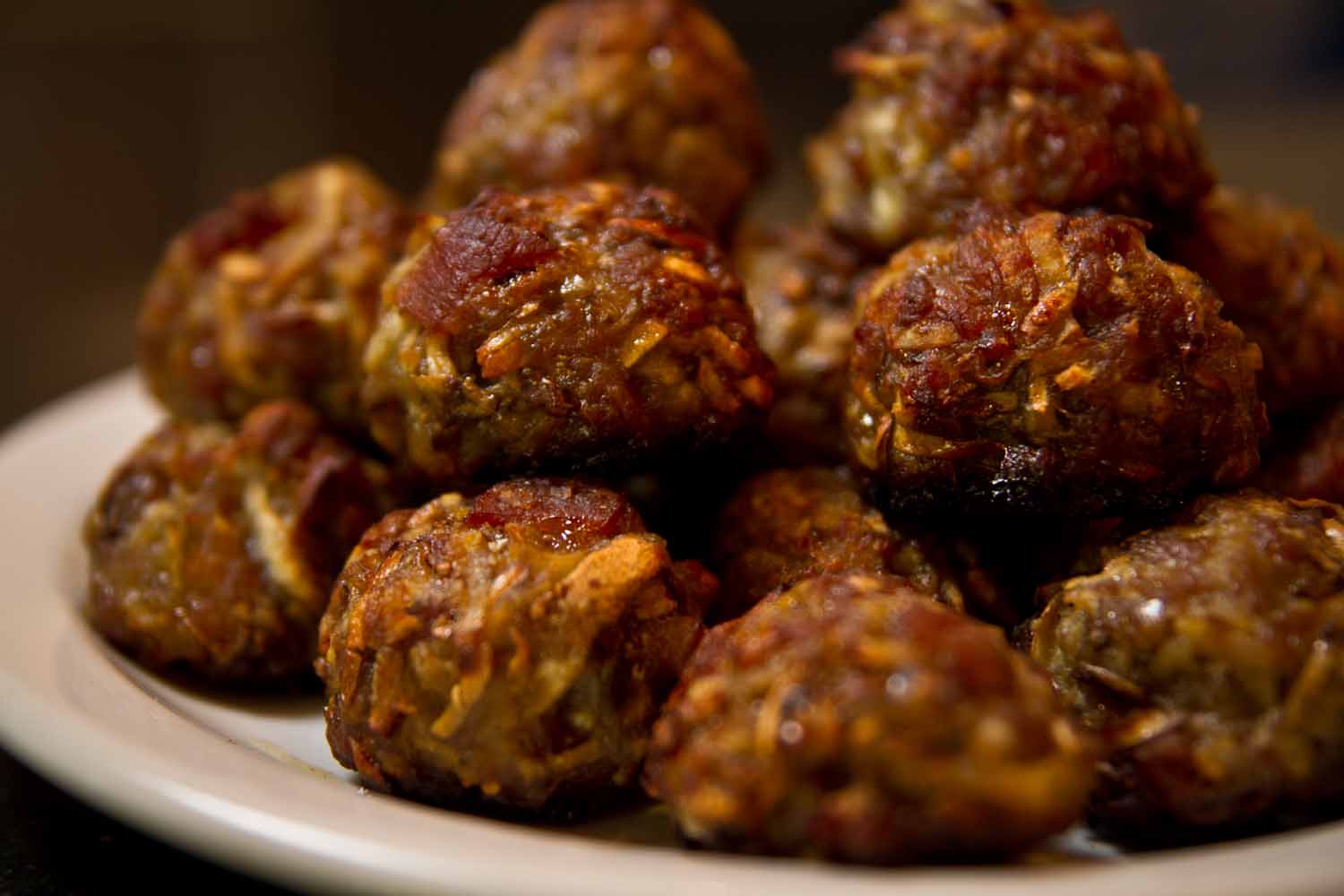 INGREDIENTS:
1lb breakfast sausage (no sugar added)
1 sweet potato
4oz button mushrooms (I used half a container of sliced button mushrooms)
½ yellow onion, peeled
2 tablespoons maple syrup
5-6 slices of bacon
1 garlic clove, minced
salt and pepper, to tast
INSTRUCTIONS:
1. Preheat oven to 375 degrees.
2. Place your bacon slices in a pan over medium heat. Cook on both sides until crispy, place on a paper towel to soak up the excess fat and cool, then dice up into small pieces that would fit well in meatballs. Duh.
3. Place your sweet potato in a food processor with the shredding attachment. Shred your sweet potato, remove contents, then shred it once more. You want it pretty fine.
4. Then shred your onion and mushrooms in the same container with the sweet potato that was shredded twice.
5. Add your sweet potato, mushrooms, and yellow onion to a bowl along with your breakfast sausage, maple syrup, garlic clove, diced bacon, and salt and pepper and mix well. Your hands are your best tools.
6. Place parchment paper on a baking sheet then start making your meatballs.
7. What is helpful is using an ice cream scoop so they are all the same size. Roll the scooped out balls in your hands and place on a baking sheet. Repeat until all your ingredients are gone.
8. Bake for 30-35 minutes until meatballs are golden brown and completely cooked through. Be sure to check one before you turn the oven off!
Aside from being the author of the PaleOMG blog, Juli Bauer is also a CrossFit coach. She has also published several cookbooks like "OMG. That's Paleo?" and "The Paleo Kitchen: Finding Primal Joy in Modern Cooking". For Juli, paleo cooking isn't just a trend. "All I really want out of this blog is to make you laugh and inspire you to eat something delicious. If you don't cook, then stop looking at food blogs while sitting at your desk at work. Go to the grocery store, buy fresh food and cook it. " Juli's easy-to-read recipes make the paleo diet digestible (pun absolutely intended), approachable, and non-intimidating.