This baby won't make you look like you just ate 7 pies, is super easy, super tasty, & makes a fabulous brekkie, lunch or dinner option. You can add any fillings you like for a high protein, low carb feast and can jam as many veggies in as you like.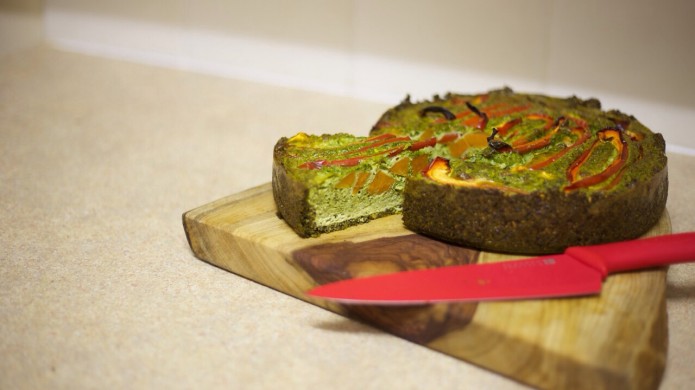 Base-
1 cup PESTO (you can use any type you like)
1 cup flaxseeds, ground
2 tbs coconut oil/ghee
Filling-
10 eggs
1 zucchini, grated
Extra 1/2 cup pesto
Anything else you would like to add to your quiche, I added sliced capsicum & sweet potato chopped into small cubes
Preheat the oven to 180C. For the base, add all the ingredients to the food processor & mix well until completely combined. Press into a greased tart tin or springform tin so that it covers the base & up about 5-8cm on the sides. Pop it in the oven for 10-15 mins until it is just firming up then remove & set aside.
Add the eggs, pesto & zucchini to a bowl or food processor & mix well to combine. Add any other ingredients you like now and stir through. Pour onto the pre-baked base ensuring the egg mix does not come up higher than the tart base on the sides. If you have extra mix left you can pour it into some muffin tins and make some mini fritattas. Turn the oven down to 160C and pop the quiche in for 45mins to 1hr or until it is firm in the centre. Once you take it out of the oven, allow to cool for at least 30mins before slicing.
ABOUT THE AUTHOR
So who am I? My name is Shan Cooper. I have a food blog called MyFoodReligion. It is devoted to Pure Unadulterated Food. Food that is good for the body and the soul. Food that makes you feel good from the inside out. It is clean eating that is full of flavour! In terms of my qualifications in food, I have none but I love to cook it and eat it! I have done a lot of research into nutrition and various 'food religions' and love to learn about food, how our body's process it and respond to it. Ab's are made in the kitchen and you cannot out-train poor nutrition.