Almond & Maple Ice Cream
Author: Shan Cooper Date Posted:7 July 2016
---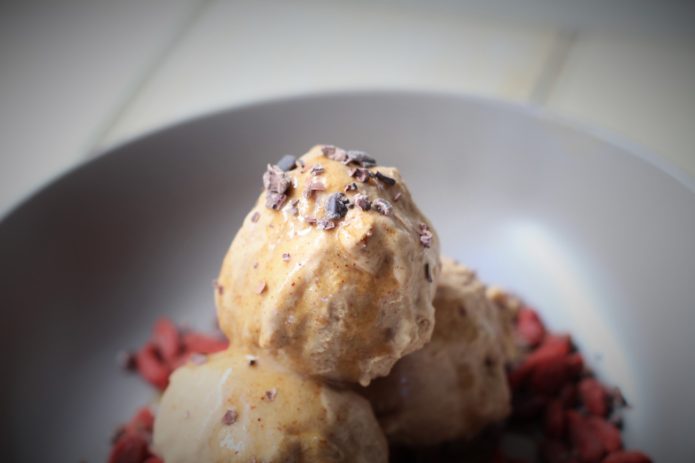 You can choose your own adventure with this ice cream a bit and swap the almond butter for a different type of nut butter. Cashew butter will give it a much more neutral flavour and something like peanut butter is going to give you a stronger flavour. Do what you want. Add in some of the optional extras, or don't.
400ml coconut cream (full fat)
100ml water
3/4 cup almond butter
1/3- 1/2 cup maple syrup/ rice malt syrup (depending on how sweet you like it)
Plus a few extra tbs maple syrup to drizzle
1 vanilla pod, scraped (or 1 tsp extract)
Optional:
Cacao nibs
Shredded coconut
Goji berries
Dark chocolate
Few shots of espresso
This can be done without an ice cream maker, it will just require a bit more patience and you'll need to let it thaw a little before you try & scoop it out. I used an ice cream maker because it's there so I might as well. So, grab all the ingredients (not the optional extras) and blend them together in your food processor or blender until smooth. Pour into your ice cream maker and let it do it's thing. You can either eat it as soft serve straight from the ice cream maker or pop it in the freezer to set a little harder. If you are not using an ice cream maker, pour it into a container with a lid and freeze for 4-6 hours until scoopable. Top with any optional toppings. Enjoy.
ABOUT THE AUTHOR
So who am I? My name is Shan Cooper. I have a food blog called MyFoodReligion. It is devoted to Pure Unadulterated Food. Food that is good for the body and the soul. Food that makes you feel good from the inside out. It is clean eating that is full of flavour! In terms of my qualifications in food, I have none but I love to cook it and eat it! I have done a lot of research into nutrition and various 'food religions' and love to learn about food, how our body's process it and respond to it. Ab's are made in the kitchen and you cannot out-train poor nutrition.
---
Leave a comment