Easy Shrimp Skewers with Chard Cilantro Pesto
Author: Juli Bauer Date Posted:18 July 2016
---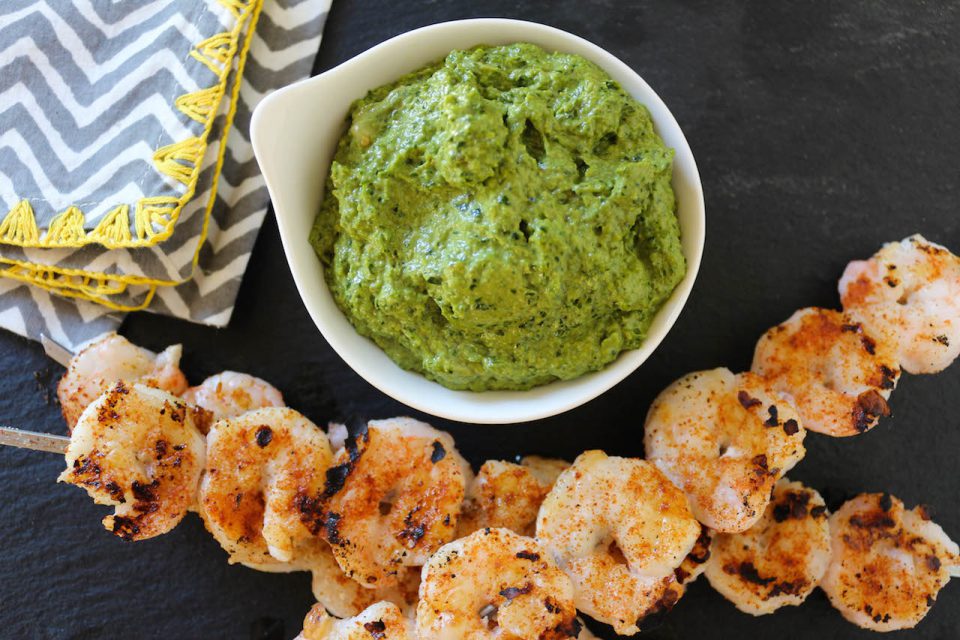 Ingredients
1 pound shrimp, peeled and deveined
salt, to taste
garlic powder, to taste
chili powder, to taste
For the pesto
4 cups chard leaves, stems removed, roughly chopped (7-8 chard leaves)
⅓ cup cilantro
2 tomatillos, roughly chopped
½ jalapeño
2 garlic cloves
½ cup pine nuts
½ - 1 cup olive oil (depending if you like it thick or thin)
pinch of salt and pepper, to taste
Instructions
Make the pesto first: place the chard, cilantro, tomatillos, jalapeño and garlic in the food processor and pulse to combine. Then place pine nuts in the food processor and blend. Once combine, pour the olive oil in a steady stream into the food processor while it's running. Once you find your preferred texture (thick or thin), add salt and pepper to taste and pulse once more.
Then make shrimp: place shrimp on metal skewers, sprinkle with salt, garlic powder and chili powder. Heat up grill or grill pan and grease to keep shrimp from sticking. Cook shrimp skewers on both sides for about 2 minutes, until shrimp become pink.
Dip the shrimp in the pesto, smear it on the shrimp, pour it on the shrimp. Do whatever you please!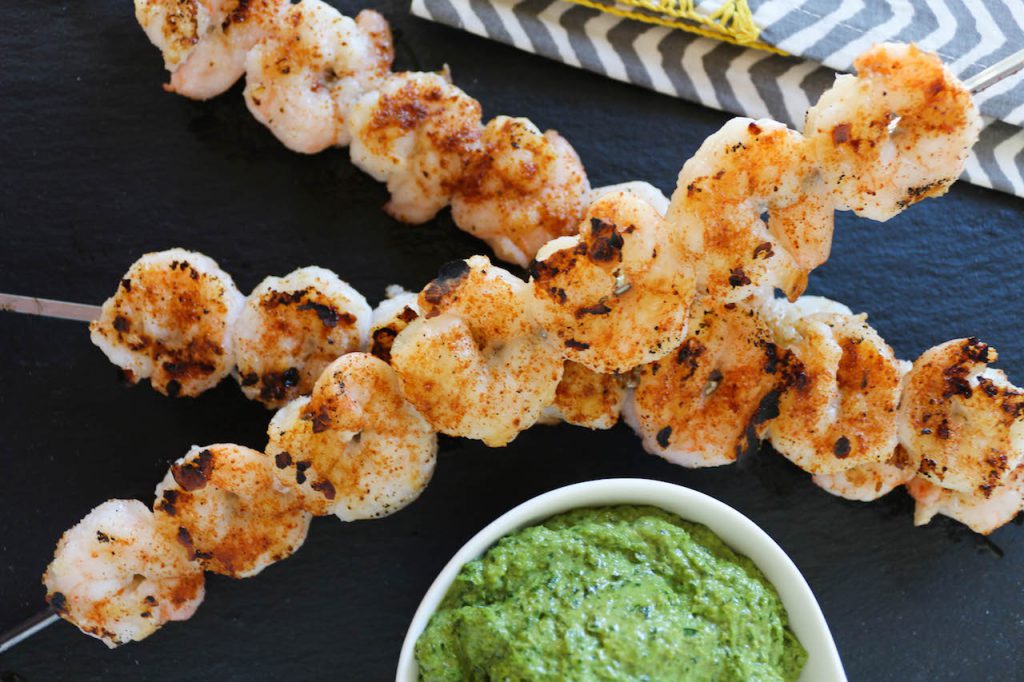 ABOUT THE AUTHOR
Aside from being the author of the PaleOMG blog, Juli Bauer is also a CrossFit coach. She has also published several cookbooks like "OMG. That's Paleo?" and "The Paleo Kitchen: Finding Primal Joy in Modern Cooking". For Juli, paleo cooking isn't just a trend. "All I really want out of this blog is to make you laugh and inspire you to eat something delicious. If you don't cook, then stop looking at food blogs while sitting at your desk at work. Go to the grocery store, buy fresh food and cook it. " Juli's easy-to-read recipes make the paleo diet digestible (pun absolutely intended), approachable, and non-intimidating.
---
Leave a comment