Gut-Loving 'Vietnamese' Pho
Author: Alice Nicholls Date Posted:30 June 2016
---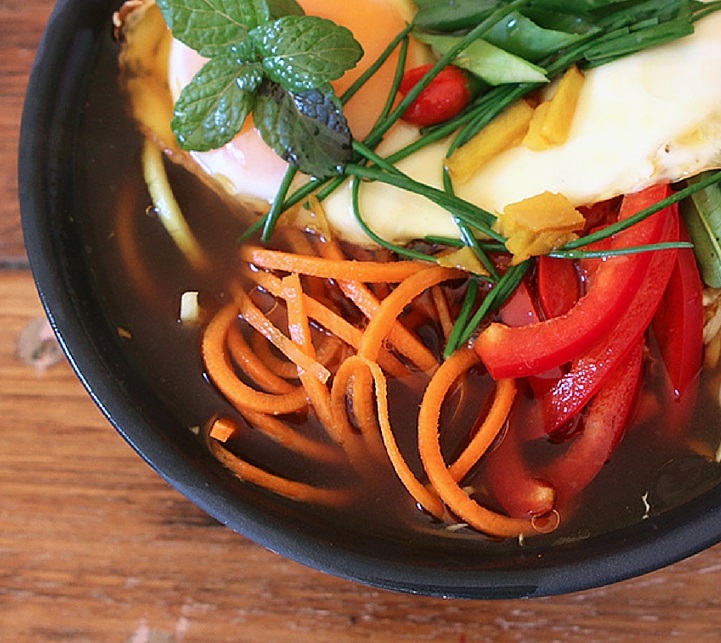 I got a phone call from mum at lunch-time saying 'I feel like I'm eating in a restaurant'. She was so happy with what is really the simplest of meals. Pho for the win today!

Put 2-3 cups of beef broth in a saucepan, add 1 thumb of diced ginger and 2 cloves of garlic, 1 tsp turmeric, 1-2 tbs tamari (wheat-free soy sauce) and boil.
In the meantime, fry an egg/eggs (depending on one or two serves) in coconut oil and grate or spirooli fresh veg like carrot, wombok, zucchini, spring-onions/scallions and capsicum.
Place vegetables in a bowl. Add fresh herbs like Vietnamese mint, english mint, chives or coriander.
Pour the hot broth over the RAW veg (it will cook as it sits in the bowl), top with your egg/eggs and a drizzle of sesame oil.
There you have it! Gut healing, arthritis busting, soul warming pho.
ABOUT THE AUTHOR
I'm Alice Nicholls. I'm a Nutritional Medicine Practitiioner, Health Coach and Life Coach. I specialize in the topic of functional healing and nutrition. This is because a nourishing lifestyle - including the food we eat for health and energy, the self-care practices we utilise and our mindset work - will be the foundation a life that wwe love is built on.
You will find information on The Whole Daily that will help you feel better in your physical body, stronger in your emotional body and inspired by your own potential.
---
Leave a comment